PAGE INDEX
Closer Look: HyperX Fury RGB
Kingston's HyperX Fury RGB solid state drives are offered in 240GB, 480GB, and 960GB capacities for the 2.5″ SATA form factors. The 480GB HyperX Fury RGB SSD we're testing is available online for $124.99 (Amazon). This kit includes the Fury RGB SSD, USB/RGB cable, Acronis True Image HD OEM activation key, HyperX sticker, install guide, and warranty information card.
Solid state storage has become standard equipment for performance-minded consumers because they work equally well in PC, Linux, or Apple computer systems. Likewise, these storage devices easily install into desktop and notebook platforms without any necessary modifications. HyperX Fury RGB is designed to give personal computers a much faster response time that can really help boost productivity, and improve user experience with RGB lighting.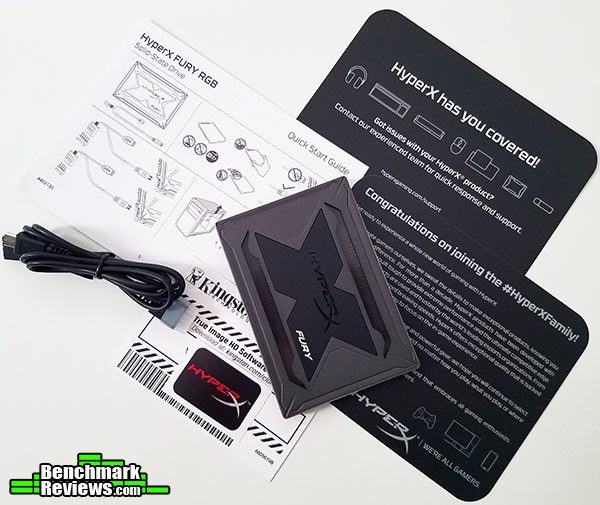 HyperX utilizes Toshiba's third-generation 3D NAND for Fury RGB, which offers improved durability over planar NAND. The 240GB model boasts 120 Terabytes Written (TBW) endurance, while the 480GB model offers 240TB endurance and 960GB model offering 480TB endurance. Kingston gives consumers a 3-year limited warranty.
Unlike fragile Hard Disk Drive (HDD) magnetic storage products, SSDs are not nearly as sensitive to impact damage and do not require (or benefit from) any kind of special vibration dampening or shock-proof enclosures. The HyperX Fury RGB solid state drive is protected by a heavy-duty metal enclosure, limiting potential impact damage. A USB-to-RGB cable (included with kit) plugs into the port located beside SATA data and power on this drive.
HyperX Fury RGB features a thick 9.5mm chassis that comes with a matte gun metal grey finish. Kingston utilizes a standard two-piece metal enclosure for Fury RGB, with their branding at the top and product information label on the bottom. Internal components are revealed by removing four small counter-sunk Torx screws located at the underside of this solid state drive (removing screws or label will void warranty).
Standard 2.5″ drive bay mounting points are pre-drilled into the SSD chassis with fine screw threading, allowing this drive to fit directly into notebook computers that use SATA connections. For older notebooks that fit a 9mm drive, users should purchase a plastic adapter that fits atop this 7mm SSD. The threaded mounting positions matched up to the drive bracket on my notebook computer.
In the next few sections we'll test the HyperX Fury RGB SSD, and compare this solid state drive to other SATA 6G storage products intended for notebook and desktop installations. For reference, Kingston advertises up to 550 MB/s read and 480 MB/s write speeds for all their Fury RGB solid state drives.
SKIP TO PAGE: