PAGE INDEX
Gaming Mouse Final Thoughts
As expected, the G502 HERO performed very well with its HERO optical sensor. With a comfortable body shape and design, this helped with improved grip along with its balanced center of gravity. Because the 11 buttons are programmable, the G502 HERO also makes a good mouse for productivity purposes. I found this to be very useful when editing these photos.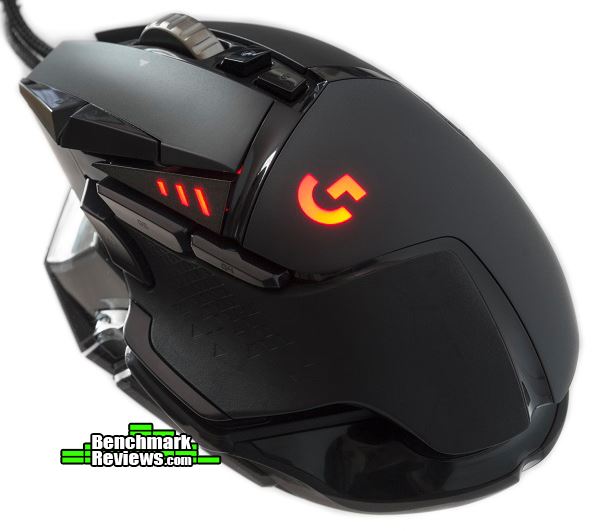 G502 HERO Conclusion
The HERO sensor provides great tracking precision since it does not introduce any acceleration, smoothing, or filtering. While playing multiple games, I found my aim to be just as good or better than the 3360 based mice I compared this to.
In terms of appearance, those who like the design of the G520 Spectrum and G502 Proteus Core will find that the only significant change to the G502 HERO is the company logo and the redesigned cable. Everything else is pretty much the same. But for the ones who are looking at the G502 for the first time may have mixed feelings about the aggressive design.
The mouse feels very solid overall. There is just a slight rattle in the scroll wheel when I shake it around, but everything else seems pretty bulletproof. With a rating of 50 million clicks, the main left and right mechanical buttons should last beyond your next upgrade.
For a gaming mice, everything seems very spot on the G502 HERO. The body shape allows for easy grip, the sensor is located in the center of the mouse, the weight system provides a balanced center of gravity, and the HERO sensor tracks well in a wide DPI range. Because there are 11 programmable buttons total, this mouse is also suitable for productivity.
As of January 2019, the Logitech G502 HERO optical gaming mouse currently sells online for $67.90 (Amazon | Newegg). This does seem a little steep when compared to the other gaming mice that are priced around the $60 range. This would not make a good upgrade if you currently have the G502 Spectrum or a similar 3360 based gaming mice. But for someone who is coming from a more basic, then the G502 HERO is worth the extra premium.
Pros:
+ Redesigned braided cable
+ Excellent sensor performance
+ Functional as a gaming and productivity product
Cons:
– Loud scroll wheel steps
Ratings:
Performance: 9.75

Appearance: 9.25

Construction: 9.00

Functionality: 9.25

Value: 8.75
Final Score: 9.20 out of 10.
SKIP TO PAGE: