StarTech.com Thunderbolt Hard Drive Enclosure Announced
New dual-drive Thunderbolt Hard Drive Enclosure lets users connect two 2.5" SATA HDDs or SSDs to their Mac or PC, delivering a high-capacity, high-speed data storage solution for faster external backups, graphics-intensive applications
StarTech.com, a leading manufacturer of hard-to-find connectivity parts has announced the availability of their new 2-Bay Thunderbolt Hard Drive Enclosure (SKU: S252SMTB3), which lets users add reliable, high-speed external storage to a Mac® or PC computer through a Thunderbolt port. The Thunderbolt enclosure is the first external drive enclosure from StarTech.com to feature a Thunderbolt host connection, and features two drive bays which allows users to maximize external storage capacity while ensuring the best possible data transfer rates with the host system.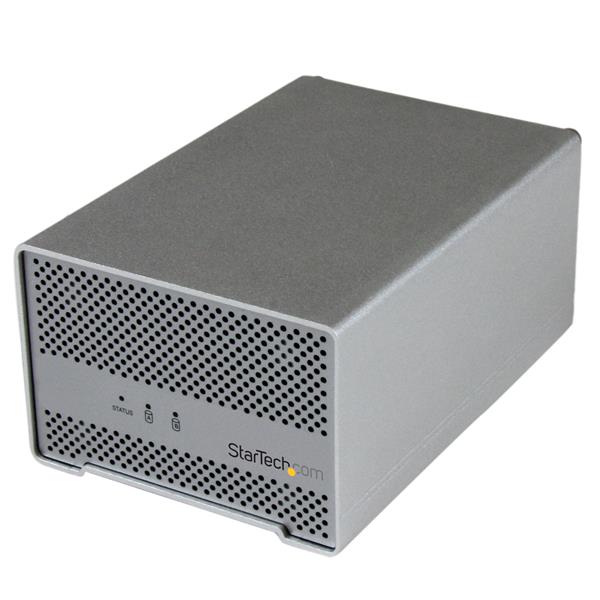 The Thunderbolt enclosure offers features to help prevent heat build-up within the case, for a cooler operating environment, including a built-in fan and a solid aluminum chassis for maximum airflow and heat dissipation. The enclosure also includes a 1-meter Thunderbolt cable that provides an out-of-the-box storage solution and saves users the added expense of a cable to connect their external drives to the host computer.
"Our Thunderbolt Enclosure offers the best possible user experience, with lightning-fast transfer speeds, a sleek design and dependable performance" said Juliet Wei, Senior Product Manager for StarTech.com's External Drive Enclosure product line. "This enclosure can help create the ideal solution for any high-capacity, external storage application, and includes a 1-meter Thunderbolt cable which provides hassle-free setup right out of the box, without the expense of a necessary cable".
Features of the S252SMTB3 Dual-Drive Thunderbolt Enclosure include:
· Supports Thunderbolt data rates of up to 10Gbps
· Includes 1m Thunderbolt cable
· Built-in cooling fan
· Solid aluminum housing
· Built-in Thunderbolt daisy chain port
· Support for large volume hard drives or SSDs, up to 2TB capacity per drive
MSRP for StarTech.com's S252SMTB3 Dual-Drive Thunderbolt Enclosure is $326.99 (USD) in the United States, $336.99 (CAN) in Canada, £246.30 (GBP exc. VAT) in the UK. The enclosure will be available CDW, Amazon.com, Newegg.com, PC Connection, and Insight and will also be distributed by Ingram Micro, SYNNEX, Tech Data, D&H and ASI.
To learn more about Thunderbolt and see StarTech.com's complete lineup of Thunderbolt products and accessories, please visit: www.startech.com/Thunderbolt.
About StarTech.com
StarTech.com is an ISO 9001:2000 registered manufacturer of hard-to find connectivity parts including A/V products, computer parts, cables and server management solutions. Founded in 1985, StarTech.com has locations in the United States, Canada, Mexico, The United Kingdom, Europe and Taiwan, servicing a worldwide market.